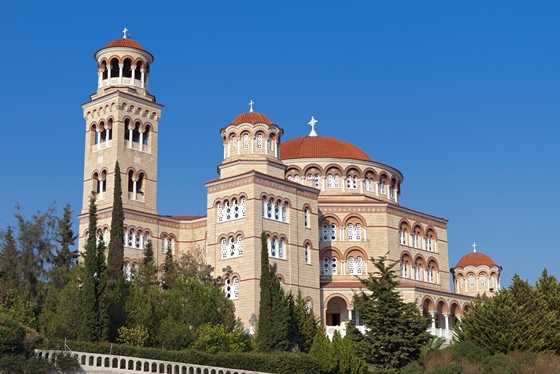 Saint Nektarios Monastery
Saint Nektarios Monastery
Near Palaiochora, on the road to Souvala, lies the impressive Monastery of Ayios Nektarios, one of the largest monasteries in the Balkans. It was built in the 20th Century (between 1904 and 1910) on the site of a small Byzantine monastery.
Sun-loving tourists should definitely soak up the sun in the island's crystalline beaches:
Pérdika, a quiet pebbly beach in the traditional village of Pérdika
Souvála, distinctive for its warm, therapeutic waters suitable for curing rheumatisms
Ayía Marína, a cosmopolitan organized tourist resort with many hotels, rooms to let, beach bars and restaurants
Marathónas, two sandy beaches, one next to another, 4 km away from the town
Vayía
Getting there
From the Port of Piraeus there is daily connection to Aegina:
By ship
By flying dolphin
By hydrofoil
Aegina can also be reached by boat from: Agistri, Hydra, Póros and Spetses.